The Changing Landscape of Shorter and Longer Customer Journeys
We have seen this image many times before … a shopper walks through the crowded Whole Foods aisle juggling a shopping cart full of local produce, plugged into her music and connected to her smartphone. The smartphone is a gateway to a whole other shopping experience both in store (looking for coupons, better price elsewhere, etc.) and at home (watching foodie videos on Facebook for inspiration, buying Lululemon yoga pants on Amazon Prime, etc.).
It is undeniable — the purchasing experience as we know it has evolved. Regardless of the category, purchasers today are bombarded across all platforms and channels. Likewise, they are using these channels in different ways every day. As such, it's critical to understand how evolving patterns and tendencies are uniquely impacting short and long-term customer journeys.
Understanding how this changing landscape impacts decision processes in your category is key to tailoring strategies that attract customers to your brand along their journeys, whatever the length.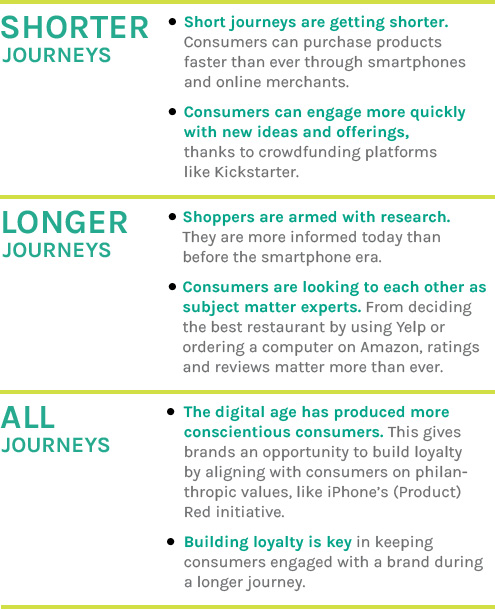 Here are five actions to consider immediately in order to influence both short and long journeys:
1. Examine your customers' journey: explore the role of different channels, how consumers connect with products, and the role of influencers.
2. Identify nuances between short vs. long journeys.
3. Dig deeper into how competitors have adapted to the changing market conditions.
4. Scrutinize market disrupters to understand consumer adoption and identify brand opportunities.
5. Periodically monitor how the journey is evolving so you can adjust your strategy accordingly.
Ready to start exploring your consumers' journey?
Save
Save
Save
Save
Save
Save
Save
Save
Save
Save
Save
Save
Save
Save
Save
Save
Save
Save