Break Out of Ruts and Shake Up Your Thinking With Empathy
Welcome to your brain and all the lovely biases that it brings.
As researchers, we're supposed to provide data that eliminates, or at least limits, biases from our business. We're the neutral party that designs experiments and analyzes data so our internal business partners can understand what's happening in the real world. We're the voice of the customer.
After a while, it's easy to fall into a rut where you think you know everything about your customer. You've been the voice for so long that you can anticipate how they'll react. Slowly and sneakily, little biases start to creep into your thinking.
These biases catch up with you when another company comes out with a new innovation, sales slow, or a product fails. And you can't explain what happened.
What can you do to make sure your customers' voice is authentic and you aren't letting in biases? You start with empathizing with them. People's lives are messy, filled will distractions, illogical reasoning and pressures. What research tells us is an ideal solution may not pass the real world test.
My first lesson in empathy came when I was writing software code. A seasoned developer advised me on the way to test my program, "get drunk and try to break it." I was skeptical…until I got started.
Being slightly inebriated, my brain worked differently. I didn't read things carefully, I typed things wrong, I didn't follow logical steps. I broke my software by being a normal, everyday person.
This is why empathy is important. People's everyday lives are messy, full of distractions, illogical reasoning, and pressures. What our business thinks is an ideal solution or product may not pass the real world test.
How do you gain empathy for your customers? Try to recreate their mental state and environment, then see how your product fits into it.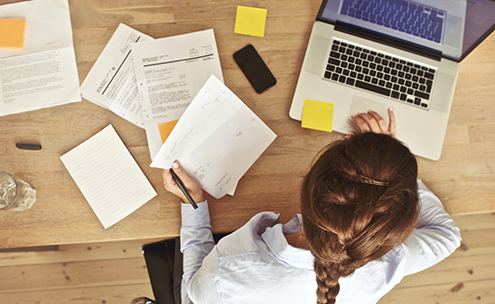 This is why empathy is important. People's everyday lives are messy, full of distractions, illogical reasoning, and pressures."
Here are a few ways you can start to empathize. All of these combine distractions, a time pressure, and slightly uncomfortable physical sensations. In other words, they mimic life.
1.  Turn on music obnoxiously loud, do a few jumping jacks, keep standing and then try to use your mobile website.
2. Get four different people to talk to you at the same time, another person to stand over you with a timer, ready to turn off your computer or take away your mobile phone after 10 minutes. Try to find and pick a subscription service.
3. Get up at 3am, sit down at your computer. Set a timer to go off every 3 minutes (the average number of times someone receives an email during an 8-hour day). Search for a business service or product you know nothing about. Figure out which company to recommend.
4. Book yourself with meetings all day. Have somewhere you need to be right after work. Text yourself at 5pm with an urgent last minute gift need for the next day.
5. Don't eat lunch. Go to the grocery store right at 5:30pm. Don't have a list but buy enough groceries for the week. And do it all in 45 minutes.
As you are putting yourself in your customers' shoes, keep track of what you are thinking (curse words included), what makes you roll your eyes, sigh, or get frustrated, and what you wish were different. Write out your whole experience as soon as you can. Ask yourself if your product or service helps with anything you identified.
Get your internal business partners to do this too. Compile your experiences and start innovating.
Want more insights on how to understand your customers?

Save
Save
Save
Save
Save
Save
Save
Save
Save
Save
Save
Save
Save
Save
Save
Save
Save
Save
Save
Save
Save
Save