4 Strategies for Brand-Building Thought Leadership
Each morning when I get to my office, I take a quick scan of what's new in a range of industries, whether it's an annual report, press release, article or blog. I quickly read the headlines, and, only if something catches my eye, do I read further. When I see supporting research data within the piece, it gives me the confidence in the validity of what the article is discussing.
As an example, my attention was recently drawn to an article on long term care, which as we know is a hot topic these days. The headline read "The high cost of long-term care."  As I delved deeper into the article, it was more of a sales pitch versus a thought leadership piece.  But what if the article included research data to support what it was sharing?  For instance, something regarding the percentage of seniors who, because they are paying for long-term care, are giving up something else. Or the percentage of seniors who do not know how they are going to be taken care of in the future due to the high costs? This would have drawn a more complete picture of what seniors are facing.  Including supporting data to this article would position this from a sales pitch to a true thought leadership piece.
Why does using data to show thought leadership matter?
It showcases your knowledge of your industry, your customers, and emerging trends in a way that helps you stand out as a leader in your category
Your brand will get recognized as an authority in your field by demonstrating your expertise. This can lead to buyers gravitating towards you as the resource for knowledge and advise.
It positions you as the "go-to" authority with whom they want to do business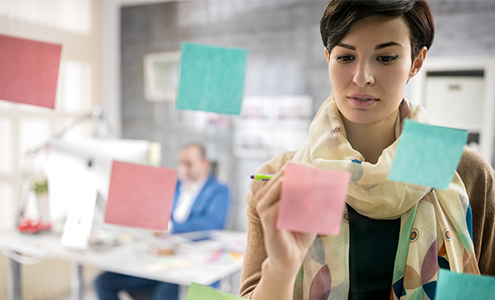 Based on our extensive experience with this type of thought leadership research we have arrived at 4 key strategies for brand-building thought leadership:
1. Make some noise
Do your homework and find an idea that is original, fresh, surprising or trending. Our technology client sought to become a thought leader in the nonprofit space but wanted to stand out. We helped them develop a trending study that used data to support their message campaigns that is utilized by their sales team.
2. Be unique
Make sure the content is unique to place you as the source of information. A new brand wanted to make a splash for their product release that needed to be unique. We provided data from research we conducted for them which was used in content marketing, blogs, social media and press materials.
3. Keep topic widespread
The topic should be relevant to the organization as well as the industry. A public relations firm working with a client in the technology industry utilized data we conducted for them showcasing the usage of mobile applications.
4. Don't sell anything
The goal is to sway the way people think versus selling a product. Our consumer product client wanted data to present at a conference to showcase their knowledge of the industry. Showcasing their thought leadership in the space instead of selling their product produced many more leads after the conference.
Your position in the market often gives you unique and valuable insight — sharing those insights sets you apart and gives you a competitive advantage.
Want to learn more on how Thought Leadership can support your brand building strategies?